Well, if ya didn't know already... I love doing DIY projects. I'm also a huge fan of Threadbanger. Or at least I was when Rob, Corrine, and Meg were the hosts.... Anyway. I used their idea of making a
bloody curtain
and placed it outside. Had fun making it. The kid next door helped by providing the bloody hand prints. I cut stripes in it so that you actually get to the door. Just ran a razor through it. Didn't mean to make it all crocked, but hey that adds to the effect.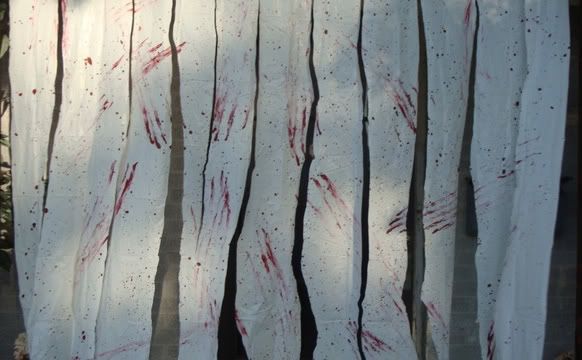 I loved it so much, I came up with the idea of doing the same on my nails. And viola! Me new nails. Hubby thinks it looks stupid, but meh.. screw him. What does he know, right?
This was super easy to do. Paint the nails white... add red and bam, you are done!
Here is the tutorial. Enjoy!