This is my second attempt at making this mani. First round was a total fail. I used black to shape the fangs and tried to use a purple and blue gradient for the background of the bat. Fail, fail, FAIL!!! It looked horrid!
I got the idea for this from seeing The Daily Nail's
True Blood nail art
I wasn't willing to file my index and pinky to make the fangs, though. Which is why I drew mine on instead. You definitely need to use a neutral background for those nails. The dark red for the blood, really clashed with the black I used the first time around.
I think my bat looks a bit funky though.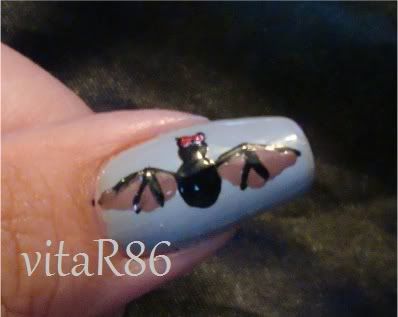 Here is the tutorial for it. Enjoy!