Alright this is going to be a mix match blog. I've got a few hauls and some nail art as well as a haul related rant.
I suppose I should start with this. I had to buy a few things at the Dollar Tree. I only had an extra $1 to spare to buy something for my self, so of course I went to their makeup/nails section. They had a few two pack packages of Sally Hanson polishes. They all were mixed. A top coat paired up with a random polish or an xtreme wear with a hard as nails color. I spotted this baby.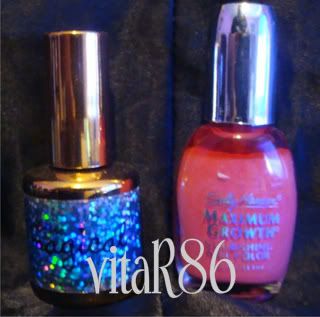 Maximum Growth in 57 Poetic and Magical in Blue Aura. Poetic, I didn't really care for. Love the color but the polish is too runny. I don't see myself using it much. Maybe for some water marbling. They actually had two bottles of the Magical brand, the Blue Aura and some copper color. Of course given the choice between a blue or a copper, I'm gonna choose the the blue. I've never seen these Magical polishes before, but based on the design of the bottle, I figured it must be a holo polish. Sure enough, when I got home and played with it, it was a holo. A gorgeous one at that. I ended up using it for a nail art.
Used it to make a french tip. And I added a star decal that I fished out of a polish from Hot Topic. No tut for this yet.... well not uploaded at least. I already have it filmed. Just gotta edit and upload. The polish itself was pretty good. It was a bit runny. But, IDK it that was because of the formula or if it was cause the polish was old. I went back the next day in hopes that the copper was still there.....no such luck though. :( I did dig through their old... and I do mean OLD Maybellines. They were all so nasty looking. Not just the condition of them but the colors too. I did find one goodie though.
This is Matte Maker. I've been wanting a matte top coat for a while now. I missed my opportunity to get a China Glaze Magic matte for 99 cents at Sally's. But now I have this, so YAY!!!!
Next up!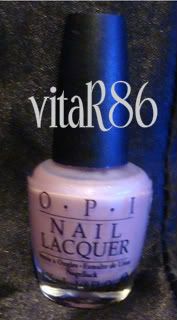 I picked up this little beauty at my favorite thrift store for 45 cents. It doesn't have a name though. Anyone have a clue what it's called?
And last but not least... What I bought today and the source of my rant.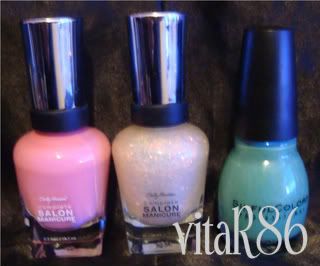 I came into the store wanting two things. I wanted Hidden treasures and I wanted a good creme pink. I also wanted to check out the Sinful Colors (My fave brand) This particular Wallgreens is out of my way. I go in and I was shocked. They have tons and tons and tons of Sinful Colors. AND they had the exact polish I was looking for.... I was sooooo happy.
So what made it so bad? The mother effin' sales woman! When I first came in, she said hello and went back to what she was doing.....then two seconds later....Do you need any help with anything?.....two more seconds later.....Are you ready to check out......I can get you here when your ready.....you ready ma'am......let me know when your ready. Jesus woman, let me shop! I zipped through there as fast as I could and ran to the other side of the store, then ran to the register.
I would love to come back there to dig through their polishes, but I don't wanna deal with "that'' woman again.