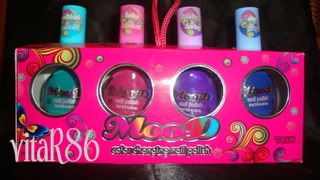 So I came across this four pack of Mood polishes at Ross. I immediately had to have it! It only cost me $4.99, so yay! I've seen tons of swatches and reviews for the mood polishes from Claire's. I've wanted them for a while. I still do... But I saw these and hoped they would be just as good.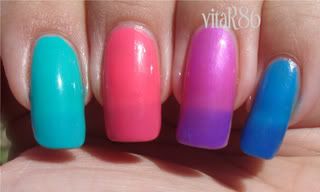 Here they are on the nail. This is how they look normally with out trying to "warm" or "cool" them. Notice the tips are different than the nail bed? That's cause the nail bed is warmer than the tips.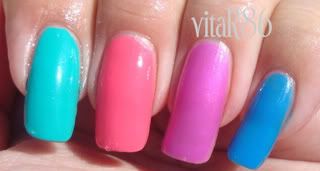 Here they are after dipping them into warm water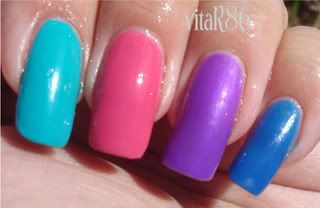 And here they are after dipping into cold water.
And now for some side by sides. All have the warm on the left and cold on the right.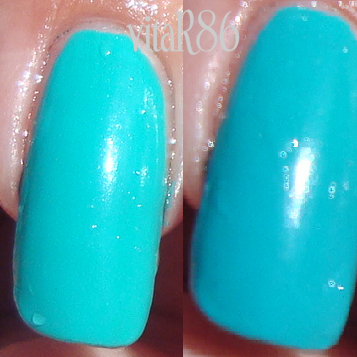 Here is the teal. Its called Confident/Peaceful. The difference is so minor. When I was dipping the nails, I thought it didn't change at all. It wasn't until seeing the side by sides that I noticed a difference.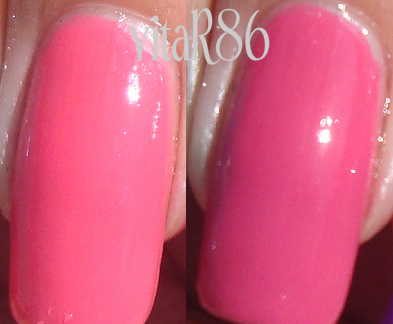 Here is the pink, also known as Funky/Fabulous. Again, not much of a change. It was noticeable, but not by much.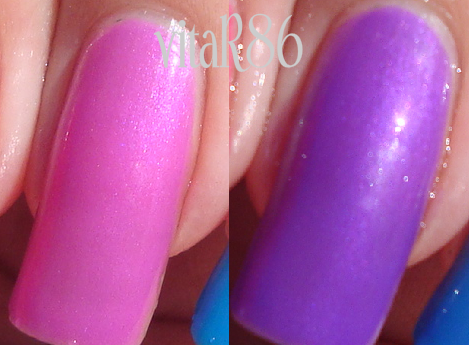 The purple, also known as Innocent/Daring. This one started out being my least favorite, but quickly turned into my favorite. When I was applying the polish, this one had a completely different consistency. It applied super, super sheer. It took 3 coats to get a decent swatch. And the way it looked... bleh. It looked like those crap polishes we used to get with our princess kits as kids. You know, that melted plastic look and feel? Well that was what it was like.
However... this was THE only one to show a true difference when I was dipping them in hot/cold water. The warm color is more of a pinky color and the cold color was a dark purple.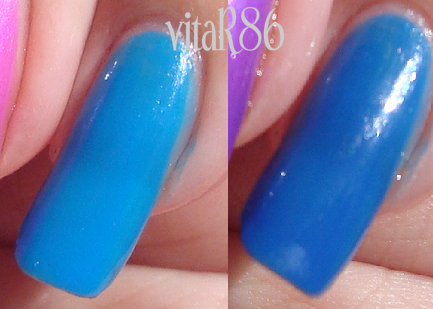 Here is the blue also known as Shy/Flirty. This one was pretty decent. You can see the difference in color, but still not as impressive as the purple shade.
I wanted to show you a real time feed of just how quickly the colors change. So I filmed this quickie.
Sorry for the noises in the background. Construction started on my street this week. They are completely redoing the street. The width from sidewalk to sidewalk is going from 30ft. to 27ft. Its suppose to take 8 weeks to complete...if there is no rain. Yeah, cause Texas weather is so cooperative.
I'm guessing it wont be done till July 4th.
Over all verdict:

I'm kinda half and half on this one. For a mood polish, they suck! The purple is the only winner of the bunch. But as for the over all colors, I love them. Knowing what I know now, if I had the chance to do it all over again... I would still buy the set. It was only $5. That evens out to $1.25 a polish. You know I love a good deal, lol. They are cute, funky neons. And with summer coming up soon, ya gotta love playing with the bright colors. I don't regret buying them, but I'm still holding out for the Claire's mood polishes.