W00T! I went to Traders Village with some friends this weekend. Traders Village is this huge Flea Market not too far away from where I live. You've got everything from tires and rims, to puppies and rabbits. They also sell the best fresh fruit around. lol, its also the spot to go if ya wanna buy fake MAC and CHI products. I wanted to get a picture of the fakes, but the sales people hover over ya and wouldn't let me snap any pics. This weekend I saw tons of nail polishes. Art Decos everywhere! Too bad they didn't have any polishes I didn't already own. I saw this huuuuuuuge bin of older polishes from CVS and Walgreens. All looked like crap though. I was not wanting any of them. Then I saw the Santees. Santee is a brand that I've heard good things about, but I can't seem to find it anywhere near me. They had a small display. A few good colors, but nothing caught my eye like this one did.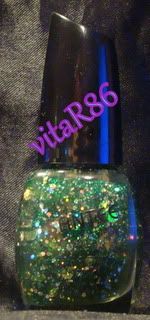 Peacock Green Glitter. I absolutely love it! It has small green glitters, medium sized gold and super, jumbo sized gold hexagon glitters. And to top it off, guess how much it cost me? $1, ya can't beat that!
I went a lil crazy with the hair accessories.

I thought I'd go ahead show them off here. These were all $1 also.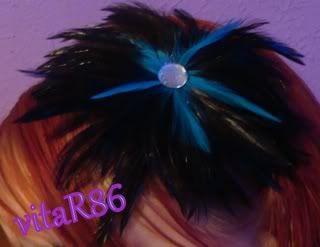 Ugh, simply gorgeous. Love this one.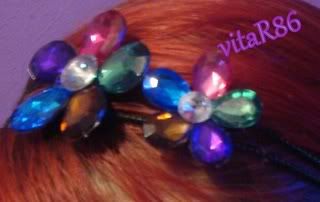 LOVE!!! The head band pinches a bit. But I don't care, I still love it.
lol, I had to get a red to match my hair. I think this one blends in with my hair a bit too much. You can barely see it.
The rest are just clips. I decided to get an orange one since I like to wear alot of orange in the summer. Cute, but I wish the clip was bigger.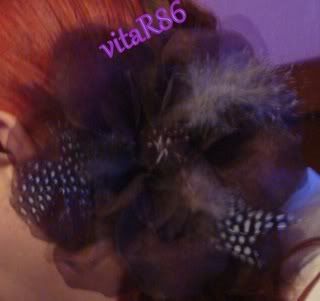 You know I had to get something purple.LOVE THIS!!!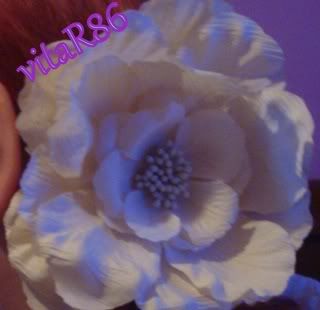 This one has to be my favorite. It is soooo huge! Its like half my head.