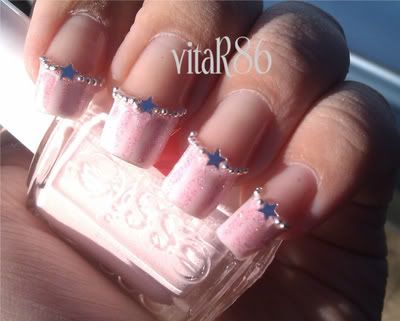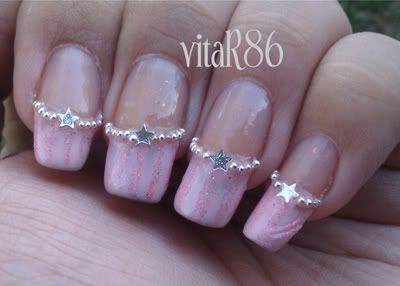 Super bright in the first photo. The second one is more accurate.
Notice the lumpy pinky? I thought my seche vite was dry enough... it wasn't.
Anyway, this is super girly. I love it. I've had the beads for a while now, but never got around to using any of them. The stars I got from a confetti pack. It had all the rainbow colors. Although I have discovered that the color bleeds when you add the top coat. So... yeah.... I don't use any of the colored stars. Just the silver and golds.
I have Essie, Fiji as the base and Klean Colors, Holo Pink for the stripes. I am not a fan of this Essie. I put on 3 coats of Fiji and it still could have used a 4th. I stopped at 3 cause I thought the streaks wouldn't be noticeable since I was adding stripes. Wrong! I can still see bare spots between the stripes.