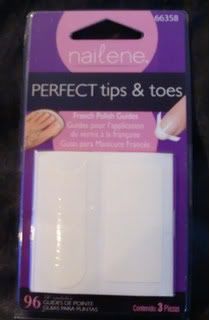 This is an absolute must for me. I suck at doing a freestyle french tip. When ever I try, they always turn out sloppy. So when Nailene sent me some guides to review, I was excited. Actually I use the regular french tip guides and they sent me these tips and toes, but hey no complaints here. I've been wanting some toe guides but can never find them in the stores.
The only draw back with the guides is that the adhesive is a bit too strong. No matter how long I wait between using my base coat and the guides, they always seem to rip my base coat off when removing the guides. But I did discover an easy fix for this.
I was watching a few reviews on youtube for the "Smartnails Nail Stencils" and in every single review, they said to first place to stencil on your skin to take the harshness off the glue. So easy and simple. I immediately thought of doing that with the french tip guides. I place the guide on my skin 2-3 times. The amount of glue left after that is similar to the glue on a post-it. Perfect for the nail.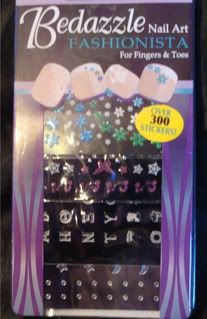 I was also given some nail art stickers. This is what I was most excited for. I mean, who doesn't love decals? There have been times when I've wanted to have gorgeous nails but just didn't feel like creating something complicated. Nail art stickers are definitely the way to go.
Here is a really simple, cute nail art design I did using the french tip guides and the nail art stickers.
I also have a review of the french tip pens coming soon. So keep and eye out for that ass well.